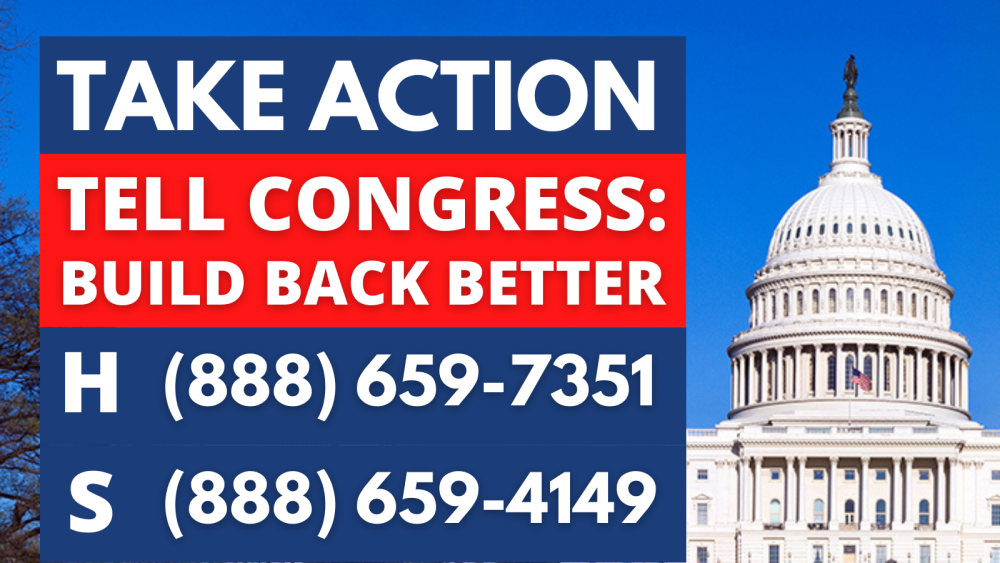 As Congress works to finalize the Build Back Better Act that accompanies the American Jobs Act, we can make a difference on how much this legislation helps Flight Attendants and our families. Here of some key items we need to demand are part of the final bill. Calls today and tomorrow are paramount. 
Labor Rights: remove obstacles to organizing unions and negotiating contracts (these items are revenue generating):

Create real financial penalties for employers who retaliate against organizing.
Bans Mandatory anti-union meetings.
Charges executives (civil penalties) who break labor laws so that corporate leaders have real consequences for union busting and violating workers' rights. Stops companies from retaliating against workers who exercise their right to strike.

Expands the Family and Medical Leave Act to provide every worker with up to 4 weeks of comprehensive, paid leave whether caring for themselves or a loved one. Makes union dues tax deductible for all workers, a benefit that was taken away for everyday people in the Trump tax cuts.
Taxes Wall Street by taxing stock buybacks.
Add Dental, Vision, and Hearing care to Medicare.
Call Congress now to tell them to ensure these provisions are included so we can fully recover and build our future together!
House: 888-659-7351
Senate: 888-659-4149
Script:
Dear Representative/Senator _____, I am a constituent and a Flight Attendant. It's time to pass the bills that give us the infrastructure we need all over our economy with living wage jobs and basic rights for everyday people. We need this legislation to protect workers' rights to join a union, paid family leave to care for ourselves and our loved ones, restore union dues deduction for everyday people, tax Wall Street stock buybacks and expand Medicare to include vision, dental and hearing protection. Invest in everyday people and pass these bills the American Jobs Act and the Build Back Better Act with these protections. Thank you.
We'll keep updates coming so you have the latest on what's happening in Capitol Hill.