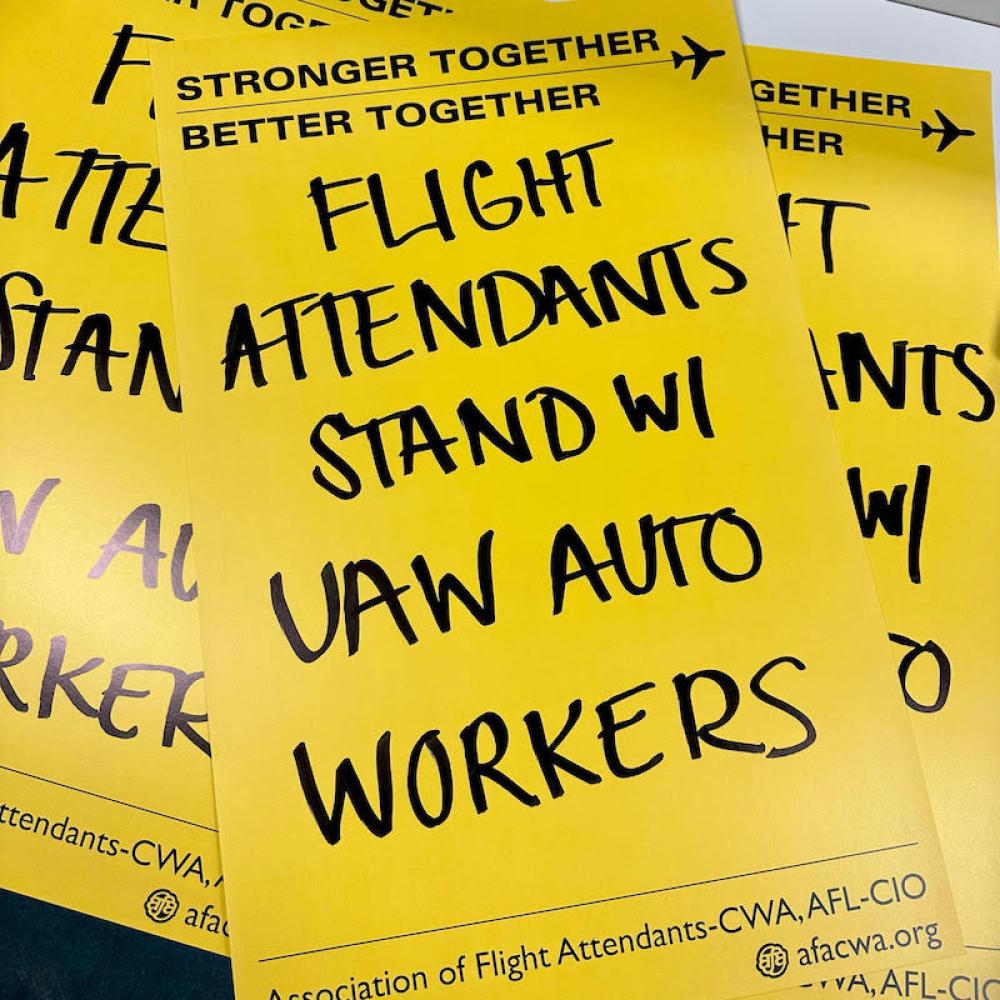 After months of intense negotiations, the UAW Workers at the "Big 3" Auto Manufacturers (Ford, Chrystler, and Stelantis(GM)) have been forced to go on strike
We Flight Attendants know all too well the challenge of negotiating with employers that refuse to bargain in good faith and agree to a contract that reflects what we've earned with our hard work.
UAW is on "Stand Up" strikes — CHAOStm like — at three plants with more to come:
Toledo, OH Assembly Stellantis
GM Missouri Wentzville, MO
Ford Michigan Assembly 
UAW President Shawn said there will be more plants on strike if management doesn't get serious, "but they won't know where or when."
The Stand Up Strike targets certain facilities to walk out on strike. As time goes on, the strike will expand to more facilities and announced by the union. 
Here are some of the UAW's bargaining priorities and their reasons for striking without agreement from the automakers who gave even more stock buybacks out just this week. 
ELIMINATE TIERS – The Teamsters ended tiers at UPS. We're ending them at the Big Three. 
BIG WAGE INCREASES – We're demanding double-digit pay raises. Big Three CEOs saw their pay spike 40 percent on average over the last four years. We know our members are worth the same and more.
MORE PAID TIME OFF TO BE WITH FAMILIES – Our members are working 60, 70, even 80 hours a week just to make ends meet. That's not living. It's barely surviving and it needs to stop.
These are big demands but "a rising tide lifts all boats"! Now is our chance to stand with them! Please show our solidarity by joining a picket line or the SAVE THE AMERICAN DREAM RALLY in Detroit today. (Rally flier below. Arrive no later than 4 pm, rally at 5 pm) Our International VP Keturah Johnson and AFA External Labor Coordinator Cindy Sjoquist (csjoquist@afacwa.org) will be there to lead and coordinate our participation - Endeavor and Spirit Detroit Locals are revved up along with Detroit Delta organizing committee. 
Airlines need to see Flight Attendants out there fighting alongside our union siblings. This matters for our bargaining and organizing too. Wear our red AFA action shirts or uniform. 
There's a lot more we can do from wherever we are in the world.
We have a lot to win together. Every industry is watching. Every corporate suite and Board room is hoping labor won't be strong enough to take our fair share. We have to show them wrong.